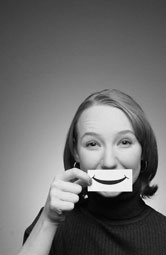 Self-harm is behaviour which is harmful to our physical or emotional well-being
Self-harm can describe a very wide range of behaviours – in fact, we probably all self-harm in different ways at different points in our lives. Smoking, drinking, unhealthy eating, lack of exercise or sleep – the list goes on! During times of feeling stressed or unhappy, many of us use ways of coping which are harmful to our well-being in an attempt to make ourselves feel better. This harm might not be immediately evident – in the case of smoking, for example, or working too hard – but the long-term harm may be very real.
The term 'self-harm' is usually used to describe a narrower range of behaviours – behaviours which cause immediate, physical, tangible injury to the body. These may include cutting, burning, banging the head or limbs, scratching, swallowing objects, overdosing, and other self-directed actions. This kind of self-harm – also called 'self-injury'- is often highly stigmatised and misunderstood. You may be accessing this site because you work with or care for someone who self-harms, or because you self-harm. In either case you will probably be aware that self-harm can feel like a worrying and sometimes frightening issue to deal with.
Self-harm is by no means uncommon; in fact, it is the single most common reason for admission to general hospital for women, and the second most common reason for men. Whilst research show that some groups are more likely to self-harm – young women, for example, or people with a learning disability, self-harm is not confined to those groups.
Men and women, primary school-age children, older people, people with and without disabilities, parents, prisoners, people in highly-paid and responsible jobs, people from all ethnic backgrounds – self-harm is an issue across the whole of society.